Apart from beach days with besties, BBQs in the garden, and picnics in the park, is there a better summer feeling than updating your wardrobe? At Greenwich Shopping Park, we don't think so!
Obviously, our opinion is slightly biased based on all of the great stores we have, but if you have been looking to use this heatwave as an excuse to upgrade, then you've come to the right place!
Whether you're going for airport comfort or wedding chic, we've curated a range of the hottest summer outfit choices to cater for your upgrading needs — all of which are available in-store at Greenwich Shopping Park.
1. Airport Comfort at JD Sports
Apart from stocking up on books and magazines to read on your flight and poolside, everyone knows that airports are meant for one thing, and one thing only: maximum comfort! Thankfully, JD Sports has you covered with these simple, cool, and seriously comfortable looks.
The North Face Dome Logo T-Shirt Dress + Crocs Classic Clog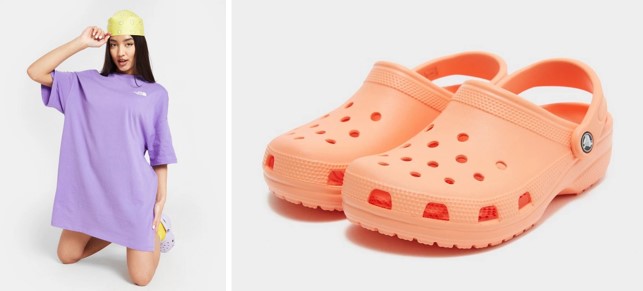 Seriously though, is there a more iconic airport duo than this perfect pastel pairing? Just the ticket for airport chilling, on-flight napping, and post-landing shuttle bussing, the only problem with this outfit is that it's so effortless, cool, and cosy, that you might not want to wear anything else on your holiday!
McKenzie Essential Summer Lounge T-Shirt / Shorts Set + Birkenstock Boston Suede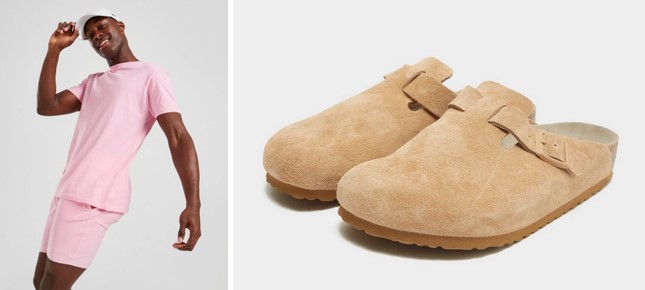 Continuing our theme of pastels and simplicity, we're absolutely loving this killer combo from McKenzie and Birkenstock. You can almost picture that warm continental breeze hitting your face for the first time as you step off the plane, before dumping your bags at the hotel and heading out for your inaugural restaurant meal with this on, can't you?
2. Wedding Chic at Matalan
Who doesn't love a good summer wedding? And, come to think of it, who doesn't love what Matalan has to offer to keep you looking on point for the ocassion?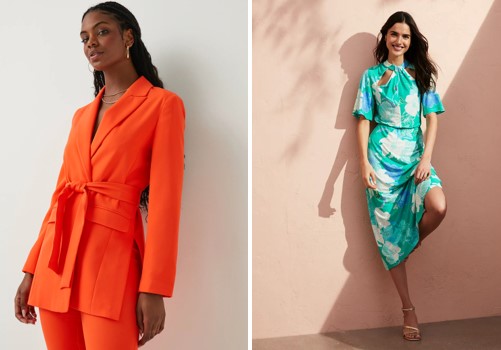 If you're looking for something that breaks the mould but not your bank, then this beautiful Be Beau Orange Belted Co-Ord Blazer and matching Tapered Trousers should be at the very top of your list! If bright and bold aren't your thing, however, the Et Vous Green Midi Floral Cut Out Dress is perfect for a more traditonal summery look.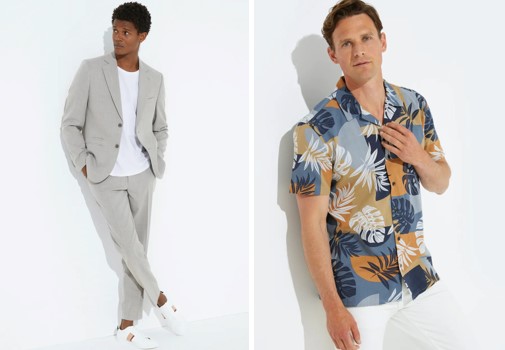 Paired with a white shirt or t-shirt, loafers or smart trainers; this Taylor & Wright Stone Cambridgeshire Blazer and matching trousers offer versatilty and style in abundance! If the weather is simply too hot for a blazer though, why not consider matching the trousers with this Leaf Print Shirt instead?
3. Tennis Style at Sports Direct
Wimbledon may have come and gone for another year, but if you're planning on playing a spot of tennis this summer, just remember that SW19's all-white look never goes out of fashion!